Tower Bridge is Falling Down…
Okay, it's not actually falling down, but since it is made of Lego, it is somewhat more fragile than the original.
Anna got this set for me for my birthday, and I spent somewhere between eight and ten hours putting it together. According to the box, it has 4,295 pieces (I didn't personally count), so that doesn't seem like too terrible a time.
Dinosaur is sold separately.
This was a fun set to put together–it didn't have a lot of "weird" pieces, but just made clever use of relatively standard stuff. The main bridge span opens by the way: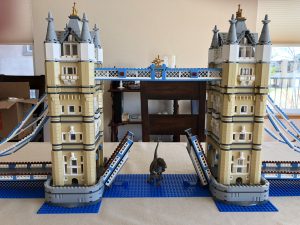 I really like the vehicles – they aren't just figures, but are built up of (mostly) standard pieces: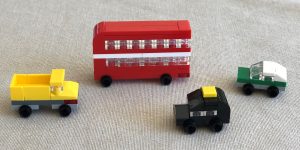 It's been together for a little less than a week, but today it gets taken apart, since I have no good place to keep it :-(. I'll have to come up with some random other things to do with all those pieces now…