Grandson of Man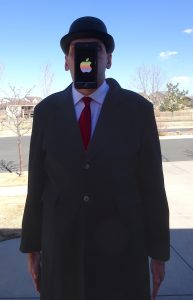 Another silly costume for Karval Kon! Grandson of Man is my take on Son of Man, by Magritte, although possibly better known from The Thomas Crown Affair.
We didn't get a good shot of the costume at the con, so I put it back on and we played around until we got a decent shot in the front of the house.
I did cheat a bit, and increased the brightness on the Apple logo – naturally went with the old-school version, before Apple became evil.
And, in case you are wondering, the only piece I actually had to buy for this was the red tie, which came from Goodwill!
This is what the original painting looks like:
I'm thinking that this is not a bad look for me, though–Anna took a picture of me while I was checking the picture on the computer: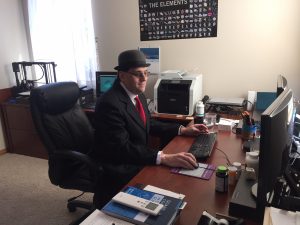 Maybe I could become a spy and wear this all the time? My grandfather, who was a big fan of hats, would probably approve.