Titanic
For my birthday, Anna gave me a Lego set of the Titanic. As you can see, I finally finished it! It probably took me about a month, doing a bit here or there.
This thing is enormous. It is 4′ 4″ long and has over 9,000 pieces. Even the box was huge:
Inside of the box were 3 smaller boxes, each the size of a large Lego set on its own, with its own manual:
With all three books, the instructions were almost 800 pages long!
The model is fairly intricate. In addition to what you can see, the ship comes apart into three separate pieces, and there are a bunch of internal details. For example, here you can see various floors, and even part of the swimming pool: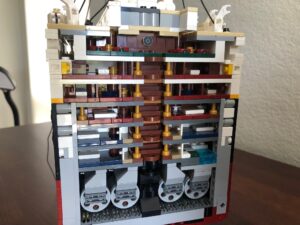 And there are even engines with pistons that are tied to the propellers–so they go up and down when they turn:
I really enjoy putting together sets like these–I find it very relaxing. You can argue that it is not particularly creative, which is true. It is also a lot of fun to create entirely new things out of Lego (like the really cool animated hippo created by my cousin Andrew). But, sometimes, it's just nice to follow directions and have things come into being.
One thing I will say–they have got a lot better at creating instructions than from when I was a kid. I am sure that a lot of the creation of the manuals is computerized now. I've spent quite a bit of time thinking about how I would have written the program to produce the manuals from a set. That is a job I would take!
They are also clever about how they use different colors for pieces you can't see–that way they are easier to find and easier to identify on the pictures. And, for the large sets, they break up the pieces into lots of bags (46 large bags and probably 20 smaller bags to go with different steps). This means that you don't spend all of your time trying to find that one particular piece. Of course, if I take it apart and rebuild it later, I'll be on my own.
I did do a little bit of creative work while building this set. The bigger sets now ship with a tool for removing bricks that you've put in the wrong place (or just for taking things apart);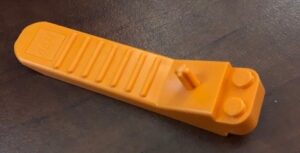 But since there were three big boxes inside, they apparently felt that I needed three of these, which allowed me to make this;
And no, before you ask, I'm not planning on making an iceberg to go with the model. Or a little door that is big enough for one person, but suspiciously too small for another.
Probably.