Skin Deep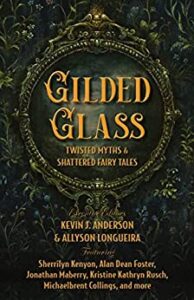 Okay, I admit that I am pretty excited by this. My story Skin Deep just came out in the Gilded Glass anthology edited by Kevin Anderson!! Not only that, but I am sharing space with Jonathan Maberry, Sherrilyn Kenyon, Kristine Kathryn Rusch and the legendary Alan Dean freaking Foster! There's also a story in there by my friend Sam Knight.
Gilded Glass is a collection related to mirrors and reflections. My story is about a little girl who inherits reflective skin from her absent mother. It is one of my favorite (of my own) stories.
This is probably my highest profile sale to date. It is also the first time where I've written a story to submit to a particular anthology and then been accepted by that anthology (although I've often written stories for particular markets that didn't take them and then sold them elsewhere).
I have talked to editors who complain that when an anthology is filled they all suddenly get a bunch of stories on the same theme. Famously, there was a pizza-horror anthology and all magazine editors were getting deluged with rejected pizza-horror stories. I have at least one story that was so specific to the target anthology that I've not bothered trying to submit it anywhere else (although I might take the first half and add a completely different second half at some point).
I also got to hang out for a while with Kevin Anderson. He was at a local event (he actually doesn't live too far from me) and I went and met him and talked with him over lunch (his lunch–he'd already ordered :-). I felt like an actual grown-up writer for a little while. I will also say that he is an incredibly nice guy!
Squee!