Skin Deep – The Audio Book!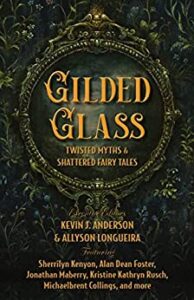 My story Skin Deep came out about a year ago in Kevin J. Anderson's Gilded Glass Anthology. At the time there was talk about do audio recordings of some of the stories. For various and sundry reasons, this took rather a long time (and, full-disclosure, due to a communications issue it took rather longer than it should have–the recording was actually posted about two months ago).
Actually, I think that my story is the only one that ended up getting recorded. The performer is (checks notes) Danyda Feldman (No relation1).
I really love the way this came out. I asked her to do a Midwest accent, and, honestly, if I hadn't known that it was Dany, I wouldn't have, uh, known.
You can get to the recording on the publisher's website here. Once there, just click on the "Bonus promo!" link.
Or you can just play it here…
Skin Deep, by Arlen Feldman, performed by Danyda Feldman: