Innocent Bystander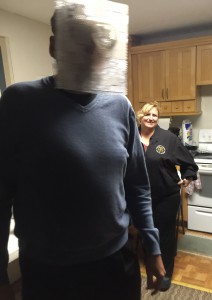 It was Karval Kon time again last weekend, so we had to do a costume. In this case, the costume is of an "innocent bystander" who has to have his face pixelated for his own protection and/or because he refuses to sign the release form.
Not the most intricate or cleverest idea, but for a quick-and-dirty costume, it turned out pretty well. Anna played the police officer who is questioning me (I had to 3D print a police badge because I couldn't find one at the toy store–although no trouble finding handcuffs, which obviously have a wider demographic).
The mask is made of pieces cut out of different types of light fixture panels. When the light is right, the effect works surprisingly well. Most of the time, though, it looked a bit silly.
The Kon was a lot of fun. This year it was held in Manitou Springs. My sister attended for the first time, although she was only there for Saturday. I think she enjoyed herself. I'm still trying to recover from missed sleep–we didn't even stay up that late–I think I am getting old.